17th May 2013
Make up artist Sally Bunting: "Never let your creativity be caged, let it out"
Words by Steph Hodgkinson
Make up artist Sally Bunting, 21, has been freelancing for the past few years. She gives Polka Dots & Potions an insight into the highs and lows of her job…
Being a make up artist might seem like one of the most glamorous careers, but life as a make up artist isn't easy. Freelancing is particularly difficult in the current economic climate, as make up artist Sally Bunting says: "It's a very expensive career and the work isn't always constant.
"It's hard because people assume I can get to all the locations easily. There are always people who want something for nothing as well but the products are expensive, so I have to think whether it'll be of any benefit to me and my portfolio."
The 21-year-old from Sheffield has been freelancing for the past few years and does make up for everything from weddings and proms to music videos, photoshoots and fashion shows. She studied cosmetic, theatrical, special effects and media make up at Sheffield City College.
Sally is under pressure to get the look right to ensure her clients are satisfied with their makeovers. She says: "There is a certain amount of pressure, but I always emphasise that if they want anything changing that they tell me. I wouldn't be offended.
"A lot of it comes down to personal preference, especially with weddings, but I include a trial with my wedding packages to prevent situations like that on their big day."
Sally's favourite shoot was one of her first shoots for a photography student. "Her theme was 'The Seven Deadly Sins'. It was really fun, and I enjoyed how I had a theme to stick to, but each look was totally different."
She says the highlights of the job outweigh the expenses, though: "One of the best things about the job is the proud feeling I get when I get the images back, or when I help to make a bride's day special."
Her dream client would be Lady Gaga or Marilyn Manson because "both are incredibly individual and their looks are very creative."
So which products does she swear by? "There's a discontinued No7 Highlighter, which I cherish! It looks amazing for any look, especially bridal makeup. Brand-wise I use a lot of MAC, Illamasqua and Ben Nye. I'm also HD airbrush trained, so I use Airbase for that."
Although it can sometimes be tough, Sally's found her ideal career. What's her advice for aspiring make up artists?
"Save up as much money as you can! It helps when you can afford high quality brushes and products. Also, never let your creativity be 'caged', let it out."
Read more from Steph here
14th May 2013
CTPA confirms; 'European Union bans lead in lipsticks'
By Railah Iqbal
Websites; 'Urban Legends' and 'Snopes' have claimed that rumours stating designer make-up brands which allegedly use lead in their lipsticks for longer wear, are untrue. Also, the European Union has banned lead in lipsticks explains CTPA; cosmetics' authority.
Make-up brands under question include; Avon, Christian Dior, Clinique, Estee Lauder, Lancôme and Yves Saint Laurent.
Courtesy of 'Urban Legends' site Urban Legends state that using metal such as lead which leads to cancer development is true however the lipstick rumours are a hoax and a Facebook message, 2013, stating; 'After doing a test on lipsticks, it was found that the Yves St. Laurent (YSL) lipstick contained the most amount of lead' is fake. Further statements claiming the more lead there is used in the lipsticks, the longer they are likely to last is untrue and checks such as the "The Gold Ring Test" can be done at home to prove whether the lipsticks contain lead are not 100% viable.
Elena, Christian Dior's' representative, said; "She had not heard that the Christian Dior have ever or would ever use lead in any of their cosmetics." She added that Christian Dior's cosmetics department policy enables them to send out details of ingredients used in their products, especially the two longer lasting lipsticks; 'Diorific Extreme' and 'Dior Addict,' to people to clear doubts over their cosmetic's contents.
Further, Eleanor O'Connor, The Cosmetic, Toiletry and Perfumery Association's co-ordinator, confirms that CTPA as the UK's cosmetics' industry representative and is its authoritative public voice, "would not allow Lead in lipsticks because all cosmetics and personal care products (which include lipsticks and lip glosses), made in or imported into the UK and Europe, must be safe. There are strict European cosmetic laws, and these require manufacturers to carry out a rigorous safety assessment."
As CTPA's information page states; "The use of lead in cosmetic products is specifically banned in the European Union by the cosmetics legislation… it is possible that minute traces are carried into cosmetic products from the environment or during manufacture. These extremely low levels are taken into account in the safety assessment to ensure their presence does not risk human health."
If you fancy doing "The Gold Ring" test, here's how it works:
1) Find a 24-Carat gold ring.
2) Rub some lipstick on your hand.
3) Then wipe the gold ring over the lipstick.
4) Wait a couple of seconds for any colour change.
5) If the colour changes to black then there is alleged lead content.
7th May 2013
City centre flashmob shows 'fearsome' fashion through experimental make-up
by Railah Iqbal
Lauren Eaton, Freelance Make-up Artist, put together the recent Sheffield flash mob when models took on the city centre, exhibiting gothic fashion.
Lauren, 23, of Sheffield, used experimental make-up artistry with a collaboration of fearsome fashion, to explore onlookers' reaction to non-cliché looks. She said; "This was an exploration of public fashion. I incorporated the looks that people did not enjoy into the flashmob to test reactions to horrific looks."
To produce the models images, Lauren explained that she used peculiar and unconventional make-up ideas and pure experimental make-up. Further she took inspiration from the new romantic art, fashion and underground club-culture eras; "where individuals would peacock to dress for attention."
She added; "I contoured the face and was vastly inspired by androgynous themes where men dressed like women and women like men. I aimed to shock people with my experimental make-up techniques."
This project, as part of Lauren's degree in make-up artistry and special effects make-up at Bradford College, was an idea branching out from a previous project where Lauren produced a 'hypothetical' campaign for High-street mogul; Topshop where she identified the looks that people detested and feared.
The team behind the execution of the flash mob included models, photographers and cameramen from numerous places in Yorkshire. She said; "I was lucky really because all these different people came together to help me form this amazing project."
Lauren said she had audience members follow her and the team throughout Sheffield which was unexpected because "I went for a look totally out of context to the ordinary. I thought people would look and then look away."
A public exhibition of Lauren's creations for the flashmob will be shown in Bradford College next month.
Lauren also specializes in bridal, editorial, catwalk fashion as well as experimental make-up and resources throughout South Yorkshire. To check out her work, visit Lauren's webpage.
5th May 2013
Tutorial: Confessions of a Concealaholic
by Bridget Owen
It's been reported by the Harley Medical Clinic that women spend around 474 days of their lives putting make-up on, which translates to around 3 and a half hours per week.
Confessions of a Concealaholic by Benefit is all set to change that hectic make-up schedule, and greatly minimise the amount of make-up you have to carry, by being available in a little set.
If you have irritating spots or dark under-eye circles like me, this tutorial is just for you!
Before:
We recorded this first thing in the morning to really catch me with just woken up skin.
Before you begin, make sure all your hair is off your face, I've pushed mine back with a headband and tied it up.
Step 1: Prime with 'Bad Gal' to give you a brightening complexion before you begin – also useful to use if you have dry skin.
Step 2: Apply 'Erase Paste' to camouflage under eye circles and big blemishes – it really is a 'paste' you need to brush across your skin but gives a really even coverage
Step 3: Apply 'Boi-ing' Concealer to cover little blemishes and other imperfections – you can use your finger or a brush to apply it.
Step 4: Apply 'Lemon Aid' to eyelids for an awakened look – you CAN look like you've had enough sleep!
Step 5: Highlight and Cover using 'Eye Bright' – highlighting with a moisturising foundation helps to blend my concealing in with the rest of my face
No matter what your skin type, this kit can really help change the way your skin looks. It comes with everything you need to apply the make-up in a gorgeous little box. You can buy this kit across the country, from Debenhams to feelunique.com.
It will set you back around £25 – but it's worth every penny.
Sally Rust, 31, Loughborough, has her own Beauty Therapy business.
"Many of my clients swear by Benefit products compared to more expensive alternatives. Although its important to have a good concealer, it's also important to take good care of your skin."
"You need to find a cleanser, toner and moisturiser that suits your skin. It's all a case of trial and error but everyone has different needs in their skin care regime. "
"When using products on your face always massage upwards, it can prevent sagging skin with age"
"The most important part of anyone's skin regime is how much water they drink. If you keep your body hydrated and free of toxins such as alcohol your skin will show many benefits."
Sally suggests a cleanse tone and moisturise twice daily, and at least 6 glasses of water to keep your skin beautifully clear.
"Another thing to keep in mind is how often you go without make up- although difficult, it's important for your skin to have a day to breathe. Why not be brave and go bare!?"

5th April 2013
Top 10 Nail Effects: Tried and Tested
By Bridget Owen
Nothing sets off an outfit like the perfect shade of nail polish, but now its not just about colours, its about having fun with effects too!
It's only in the last few years that I've become especially interested in different effects that I can create myself at home. Without looking like they have been done at home!
My favourite nail varnish brands are OPI and Nails Inc. I go back to these brands as their quality always remains the same, but that's not to say there are many other cheap alternatives that can work just as well!
I have ten favourite pieces for your nail essentials bag that will leave you with a shade and look for every occasion!
1. Base coat & Top Coat
Most importantly, a good base coat needs to be applied before you can start decorating with your favourite shade.
The nails need to be clean, dry and filed before you apply the base.
My top base coat is OPI, that comes in a small set with a top coat. You can buy both for £10.00 at Amazon.
2. Pastel Shades
Pastel pink and blue can look really fresh for spring and summer. Barry M sell a lilac shade called Berry Ice Cream – it's perfect. Barry M have an extensive range of shades and you can buy them for 3.99-5.99 in Superdrug and Boots stores.
Illamasqua have created a special range of 'speckled' pastel shades, created to look like birds eggs. They are around £14.00 from Debenhams and other beauty retailers. The collection includes pink, blue, yellow and green.
3. Matte Effect Shades
Nails Inc Kensington Matte effect top coat has been designed to go over any shade and give it a matte effect!
I love this trick after looking for matte shades in 2012 this handy polish will make any shade look chic! I think it looks best over grey, black and brown shades!
Nails Inc. Kensington Matte shade is available at Debenhams, House of Fraser and online for £12.00.
4. Nail Caviar
Nail caviar has only recently been seen in the beauty industry but is already available for you to do yourself at home.
The effect is created by many little balls sat together on your nail to create texture- very much like the look of caviar.
Different brands sell nail caviar, but a brilliant cheap version is Nail Constellations by MUA.
They come in 5 different colours and are available at £3 per bottle. They're so easy to use- apply a base coat and then pour on the beads to the nail to stick them on.
I bought 'Libra' and this is how my nails turned out on first attempt!
Remember, if you're using nail caviar just paint and stick beads to one nail at a time. Once all your nails are done, go back over them with a base or top coat to keep the caviar beads in place. If you have any gaps you can stick more beads to the clear top or base coat too!
5. Feather effect
Nails inc have created a creation of feather inspired nail polishes. These multicoloured confetti like strands go onto your nails in a clear polish to sit on a base coat or alone. I love this effect, and the cute little bottle it comes in! Nails inc shades can be bought for £10-£15
6. Glitter!
We all love to get out the glitz and glam for girlie nights out and dressed up dates- but how about for your nails?
On first seeing this trend, it reminded me of painting my nails for the first time, using cheap glitter from a girls magazine- but OPI had bigger ideas for glitter.
The James Bond Skyfall collection flew from shelves at Christmas as OPI brought out their special collection for the new Bond release.
I bought 5 of the shades from the collection, consisting of bright reds, sultry greens and glittering golds. Their is also a special edition 'man with the golden gun' which has real 18k carat of gold in.. Could you get any more luxurious?
Glitter can be over-done, but can also be worn in so many ways. It's all about being creative and seeing what will work.
7. Fur effect
Yes, I know, fur effect nails sound a little different.. But this is how they look!
The fur again sticks to nail varnish much like the caviar effect.
You can buy a little pot of fur effect by MUA from Superdrug stores or online for £3.
This is the effect I've had most doubts about- but the finishing look of the nails is really good and the effect is really unique.
8. Magnetic effect
It's simple to create this effect. Magnet nail polishes are available to buy from Boots and Superdrug for around £5.00 for Barry M shades and around £10.00 for the Nails Inc. version.
Each bottle of varnish comes with a magnet in its lid. After you have coated your nails with varnish, you hover along the magnet over the top of the nail creating a ripple or wave effect which you can see below!
9. Nail foils/wraps
Without a steady hand, nail wraps can be a nightmare to apply and look professional.
I first tried Primarks own nail wraps, which were Zebra print and only cost £1. It took hours to do both my fingernails and toes.
The nail wraps were much too big for my fingernails and toes and cutting them down was really difficult.
Once I'd got the right size the wrap would no longer be sticky or there would be an air bubble when I tried to apply the wrap.
I have since tried Superdrugs nail wraps (£4.99). Again they were too big and really fussy to apply to look professional, but they were a better quality and made an impressive leopard nail effect.
If I was going to use wraps again, I'd go for some from a trusted beauty retailer like Superdrug or Boots, I wouldn't buy them from clothes shops such as Primark or New Look.
I'd get a really cute design too, like these beauties!
10. Nail art pens
So you've tried magnets, fur, caviar and all sorts of other beauty crazes. Now it's time to get creative and do your own! Express yourself
Nail art pens are brilliant! Sally Hansen has a brilliant range of pens for any design you can imagine.
I love creating cute little floral designs, daisies are my favourite for summer- but it's so hard to paint them on my nails without these pens! (They usually look like fried eggs.)
So go ahead, mix and match your nails and see what effects you could achieve…. without the hefty salon prices!
You can go into any large Debenhams store across the country to find a Nails Inc counter, where you can test all these effects on your own nails, and get a beautician to show you what you can achieve too!
Top 10 Make-Up Bag Essentials: Tried and Tested (including a free Benefit Makeover!)
by Bridget Owen
16th March 2013
A recent make-over at the Benefit counter with Polka Dots and Potions' Lucy inspired an article made up of the Best 10 pieces for on-the-go make up satisfaction. All of the products featured in the article have been tried and tested for their application, durability and overall look.
We even ended up bagging a free Benefit makeover for our lucky readers!
1. The most important part of my make up bag is a good concealer. Dark under eye circles and blemishes are a big problem to me.
The Porefessional – Debenhams – £23.50
This concealer has the strangest sticky feeling to put on- but works wonders on coverage. You can wear it alone or with make up and the gel-like substance will cover a range of sins!
The Porefessional
2. Foundation – Benefit Play-sticks Cream to Powder foundation – £26.00
This foundation is amazing! It conceals well, has a really nice soft texture and has added vitamins to keep your skin in top condition. Applying it with a stick also really helps with application – it goes on quickly with no messy hands!
Benefit PlaySticks
3. Pencil Eyeliner – Benefit Bad Gal – £14
You can buy this eyeliner on its own or with the matching mascara for around £22.50. It goes on smoothly and stays put most of the day.
4. Mascara – Benefit – 'They're Real!' – £15.50
They're real has been voted the best current mascara – and I can see why!! I purchased this after Bec, at the Benefit counter let me try it. As soon as I used it I could see how powerful it was. The mascara doesn't clump and is easy to apply for long lasting effects.
5. Eyeshadow – MAC – smokey eye kit by Julie Verhoeven – £39.50
My oldest but most important palette is by MAC. You can tell through the picture that the palette has had plenty of use. Although the kit is for 'smokey eyes', I use the neutral colours on a daily basis- opting out of using the black.
The light look really natural and stay on all day. The kit comes with a black MAC eyeliner pencil, two application brushes and a travel-mascara. It's also handy to keep with you, as you can change to a night time sultry smokey-eyed look in seconds with this kit.
MAC – Smokey eye kit
6. Blusher – BareMinerals – Rose – Debenhams- £15.50
BareMinerals is my favourite range of powder foundations and blushers!
My skin is fair, and I use a Rose shade. It doesn't look too bright buts gives a luxurious slight pink shimmer across the cheeks.
7. Lipstick/gloss – Benefit Posie Tint (travel stick) with California Kissin' (lip and cheek stain with a smile brightening gloss) – £15.50
This lip stain stays on for hours, it is a really pretty pink and really sets off fair skin. This travel version has a second side to put on top – a blue minty gloss to go over your lips to 'brighten your smile'. Both the colour and application of posie-tint is perfect, and the California Kissin gives your lips a cool tingly sensation and helps the colour gloss to stay on your lips all day.
8. Primer – Nivea Express Hydration Primer – Superdrug – £3.99
I've only recently started using a primer, but the dry weather conditions began to wear my skin down and dry it out – making my other make-up look dry and patchy. Many cosmetics companies have their own primers, but Nivea's is my favourite. It has a sensible price tag, a fresh smell, is made up of natural ingredients and leaves my skin feeling healthy and ready to face the day (and the make-up I throw on it!)
Nivea Express Hydration Primer
9. Gel Eyeliner – Maybelline Eye Studio Lasting Gel Eyeliner in Black – Boots – £6.95
I generally prefer using pencil eyeliners around my eyes, they seem to create a better effect and smudge less than liquid eyeliners. This Gel eyeliner from Maybelline holds the best features of both a pencil and liquid. It comes with a tiny brush for ultra precision, and is thick to gain control over application on the brush. You can create any look you like as it is easy to have thick or thin lines – and it stays put.
10. Eyebrow pencil – Soap and Glory – Arch de Triumph– Boots – £8
Arch de Triumph has an end to highlight your brow bone and an end to highlight the eyebrow itself. The pencil is soft and creates a natural effect- no 'scouse-brows' to be seen here! The only thing I would suggest with this pencil – you need a large sharpener as the pencil is thicker than other eyebrow or eyeliner pencils.
Arch de Triumph
For your free Benefit cosmetics 'Face Date' makeover, ring for an appointment or pop into Debenhams stores' Benefit counters across the country!
If you're based in Sheffield you can call 'Bec' for your 'Face Date' at Debenhams, The Moor on 01142895341
Click here to read more from Bridget
11th March 2013
Animal testing on cosmetics banned after 30 years
Words by Steph Hodgkinson
Today, activists celebrated the success that they've been fighting to achieve for 30 years: an animal testing ban on cosmetics in the European Union.
The new law means that cosmetics companies are banned from selling products which have used animal testing outside the EU.
The ban includes products such as make up, soaps, hairsprays, bath and shower products and deodorants.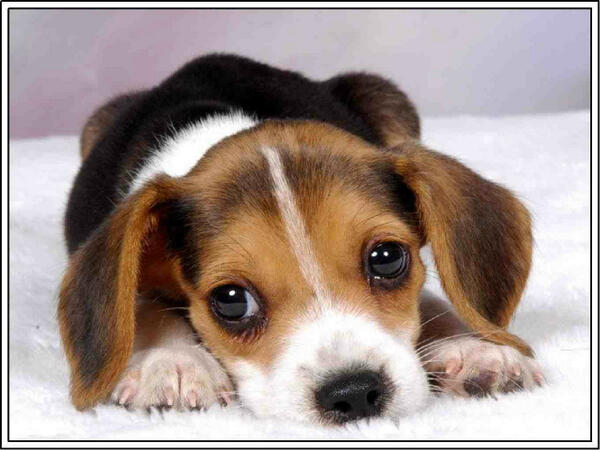 Animals will not be used in the testing of cosmetics within the EU. Image courtesy of Animal Equality
Fighting Animal Testing posted this picture on Twitter in celebration after their hard work and campaigning paid off
Animal Equality – whose motto is "Defending Animals, Promoting Justice" – took to Twitter to express their delight at the legislation. They tweeted: "AMAZING NEWS! Finally the EU ban on animal testing comes into effect!"
Lush Cosmetics said: "Animal testing: something to celebrate, plus something to fight for!"
While cosmetics companies and animal rights groups rejoiced about the long-awaited legislation, animal rights charity PETA warned that there was still a long way to go: "Companies making cosmetics and toiletries will still be able to profit from products containing chemicals which have been tested on animals in horrifying ways."
The campaigning has paid off in the EU at least, but The Body Shop – who helped to spearhead the campaign, along with global activists and organisations – now have the task of making animal testing illegal worldwide.
The Body Shop UK Facebook page said: "It's been a long journey. We continue to campaign for a global ban on animal testing in cosmetics, so that all countries are like the EU. Watch this space."
Read more from Steph here